Most people don't buy cars from private sellers that often. That's why when it comes to the titling and registration process, it's pretty easy to forget what exactly you need to do. This article will show you what paperwork you need to fill out, and what fees you need to pay before your new ride is ready for the road!
For this example, we will be using documentation from the state of IL. This is important to mention, because different states have slightly different rules and regulations. If you live outside of IL, be sure to check what your local DMV has published on the matter.
1) Title Transfer & Registration
After you have paid the seller, you are now ready to have the vehicle title signed over to you.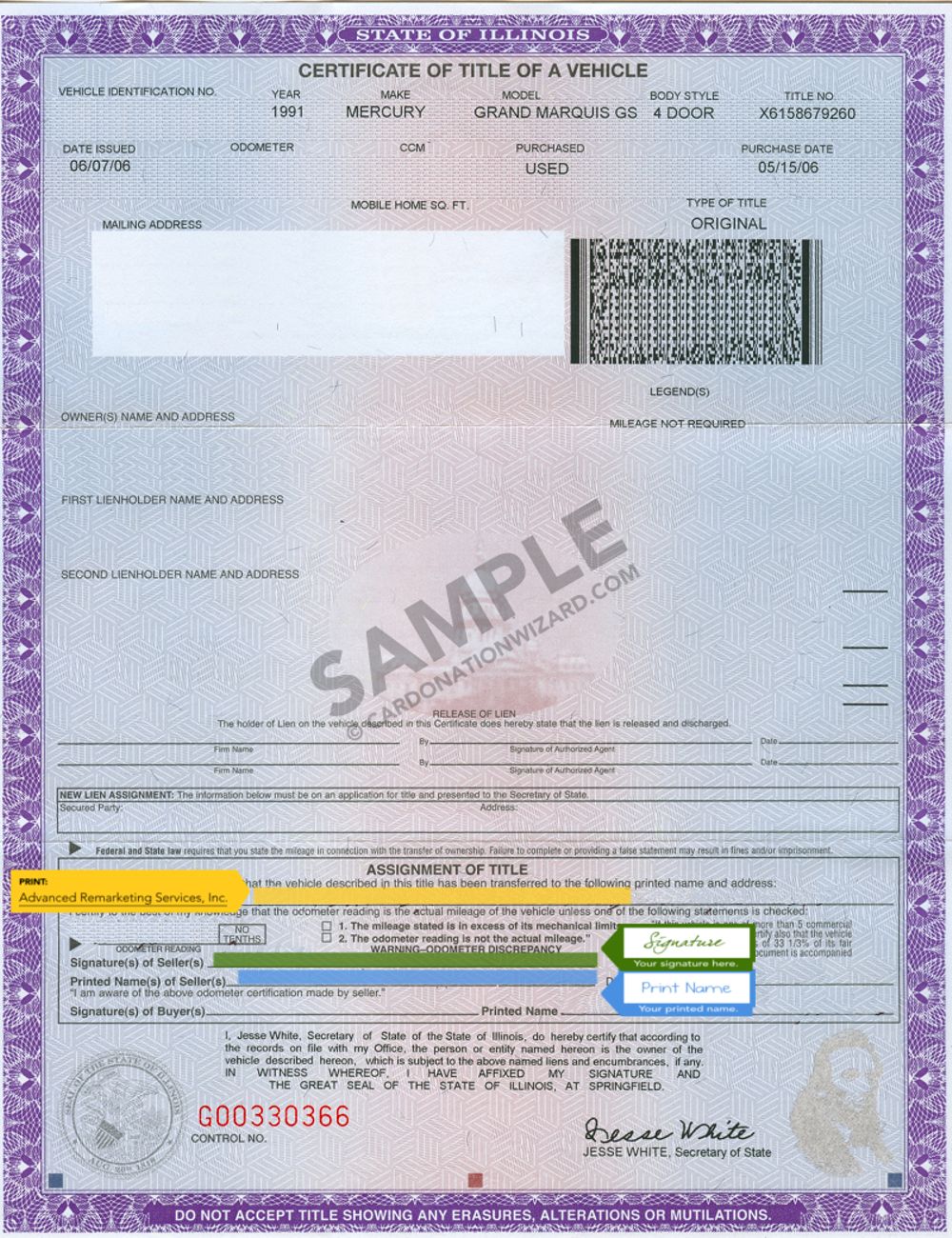 ( image courtesy of Car Donation Wizard )
The completed title will include buyer and seller signatures, as well as the VIN and current odometer reading of the vehicle.
Next, you will need to complete the Application for Vehicle Transaction(s) (form VSD 190). This form can be completed electronically and printed out via the Secretary of State's Electronic Registration and Title System. Alternatively you can also have the form printed out at the SOS office and complete it there.
In addition, you will also need to to obtain and fill out a Private Party Vehicle Tax Transaction form ( Tax Form RUT 50). This particular form can be accessed at your local SOS office, or a place with a remitters license ( currency exchanges, tag agents and other licensed third parties).
2) Fees:
The fee for the title will be $95. The registration fee will be $101- 114, depending on whether you get normal or vanity plates. You can also transfer your old vehicle license plates to your new vehicle, for a fee of $25.
Since you have bought your vehicle from a private seller, you will be paying "use" tax instead of sales tax. Use tax is calculated based on the age and value of the vehicle. In IL, it is significantly lower than the sales tax.
Once these fees are paid at your local SOS office or one of the other options mentioned- you will receive your new title, registration, and license plates.
3) Temporary Plates
In the event that you cannot get permanent plates from your local SOS office or local remitter, it's wise to get a temporary registration permit as soon as possible. Some law enforcement will give you 24 hours of grace to get plates after purchasing vehicle. It's best not to take chances on that however. You can get temporary and permanent plates from any entity with a remitters license- although they will charge a fee for this service, on top of what is already owed to the secretary of state.
P.S if all of this sounds like a hassle, buy your next privately owned vehicle through Swap Motors. We'll process your titling, registration and new license plates at our Swap Center, and save you hours wasted in line at the DMV. Oh, and we'll do it for free. Just saying.
Find your next dream car here